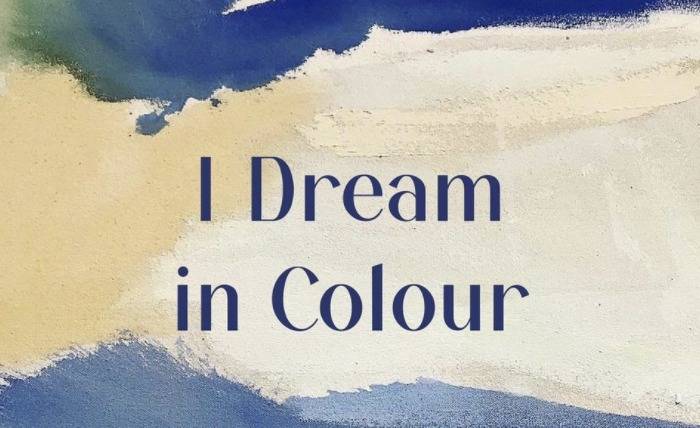 Last weekend I grabbed my camera and headed to Whitechapel to check out 'I Dream in Colour', a group exhibition showcasing 6 female artist's work. I met up with Rose Harris and Chica Seal, who guided me round the space and talked me through their practice and the show.
From the outside, on Greatorix street, 'I Dream in Colour' looks pretty unassuming. First - a heavy, unlabelled and graffitied door which, when pushed aside, reveals a long, dark passageway.
At the end of the corridor, in contrast, the show itself is housed in a beautifully lit atrium. You are surrounded by the artists' work and their different approaches to colour. From subdued washes to shocks of vibrant pigment, colourful sculptures to multi-hued ink drawings – it's a powerful contrast with the gloomy entrance.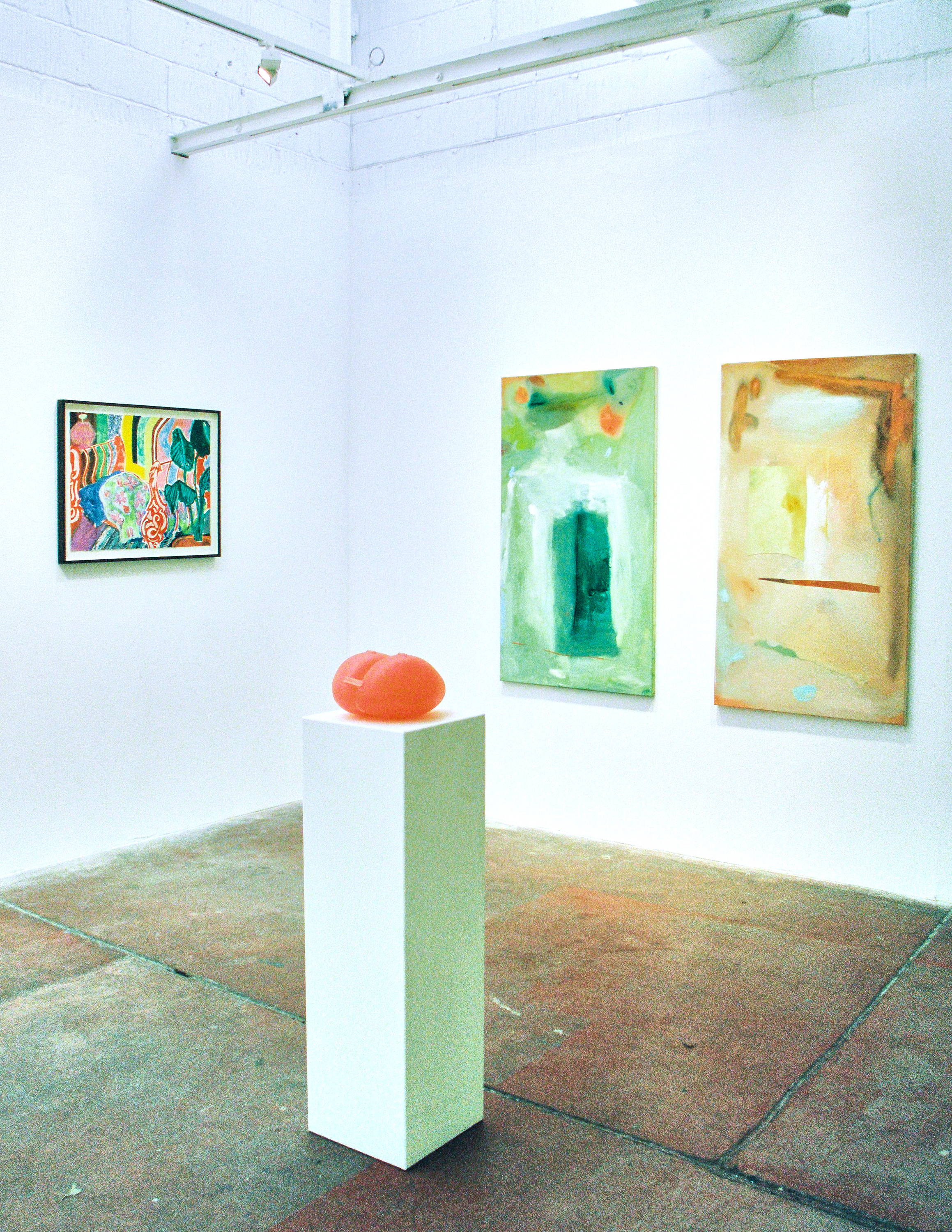 From left to right: The work of Rose Harris, Alba Hodsall and Molly Van Amerongen
Rose tells me how it's a show they've talked about doing since they lived and worked in Mexico City, two and a half years ago. Then Covid happened and it had to be postponed.
Walking me around the room, she runs me through the work of Alba Hodsall first. Her pieces are fairly abstract all the while drawing on recognisable organic and somewhat pornographic forms. The work that jumps out at me the most, 'Hard Candy', is somewhere between a seedpod and a pair of buttocks and crafted in a translucent, pink material.
It looks quite a lot like a bar of soap, adding to its feminine aesthetic.
Rose and Chica at 'I Dream in Colour'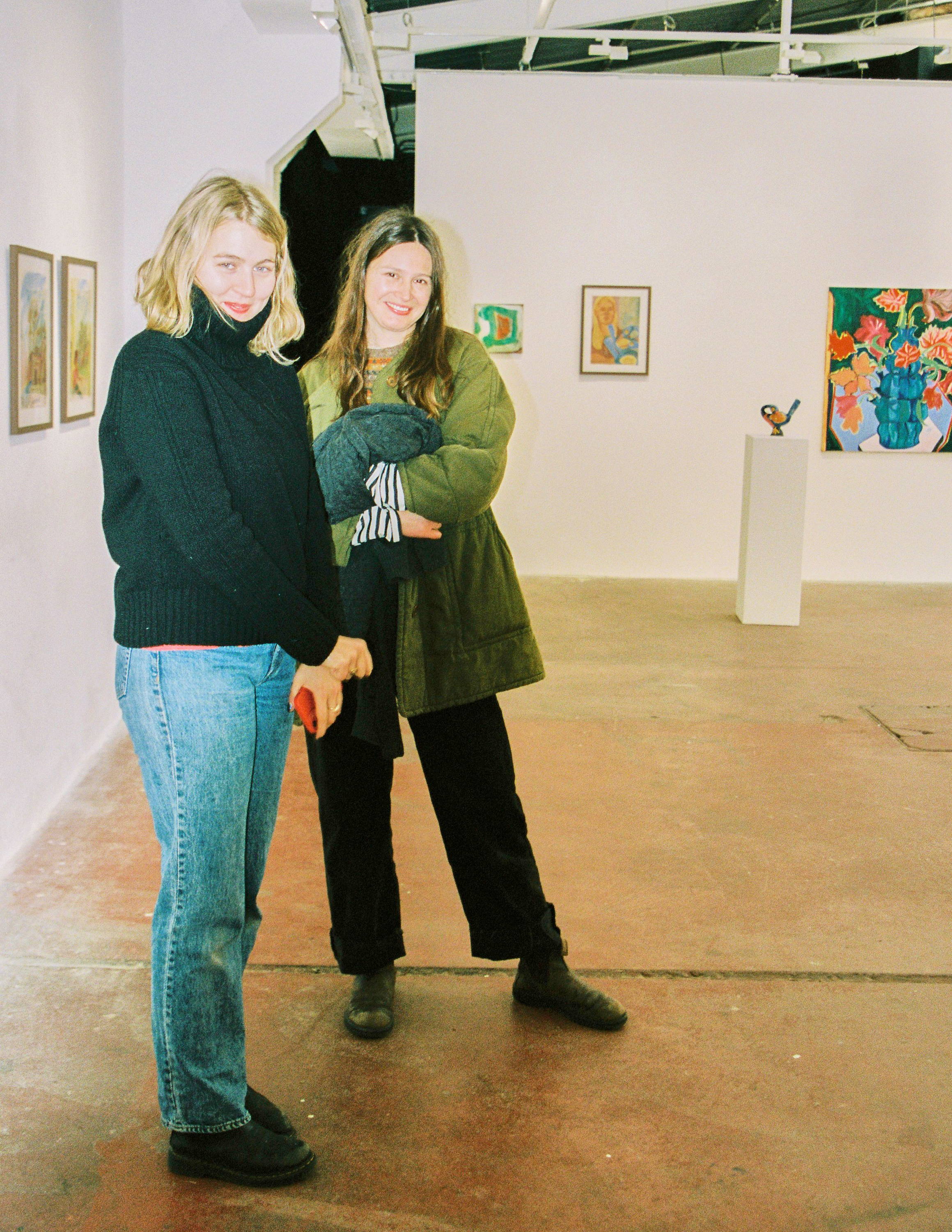 Next on the wall is the work of Molly Van Amerongen. She paints on a smaller, square canvas and has abandoned the world of representation in favour of pure, colourful abstraction. Her works exude a sense of harmony with their complimentary colour-palettes and balanced forms. Rose runs me through the six ink-drawings of Kitty Rice next. In terms of form they are mimetic representations of reality, from interior still-lives to exterior scenes of the world around us. Colour-wise, however, Kitty uses one hue for each work, utilizing tone to craft the image.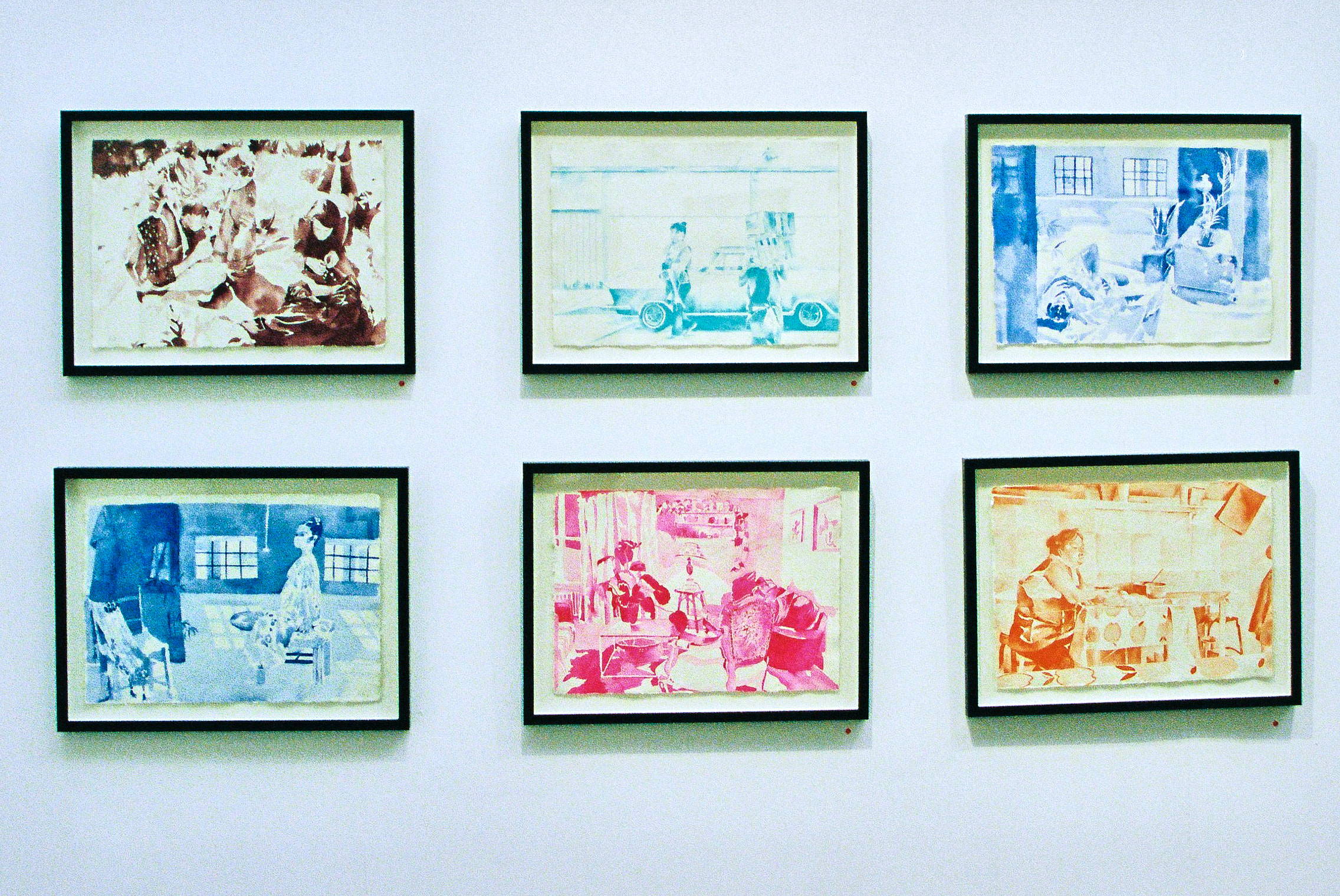 Sammi Lynch's work is to the left of Kitty's. First is a colourful and stylized ceramic sculpture of a bird. Behind this, on the wall, is a self-portrait, rendered in a similar aesthetic, in which Sammi holds the sculpture.
Rose's own works use layering, pattern and vibrant colour to depict a selection of still-life interiors. She tells me her biggest influences are Matisse, Jonas Wood and Hockney. One can immediately see the resemblances to Matisse in her flat, somewhat orientalised, planes of colourful pattern and her choice of subject matter.
Chica's works are similarly colourful while possessing a dream-like quality not present in Rose's works. They're inspired by her recent move to Somerset and the medieval, pastoral paintings of Breugel.
She tells me how moving to the country she needed to find a new narrative to paint about. Inspired by the lay line her new house sat on and articles she'd read about water dowsing, she began to incorporate themes of hippiedom and paganism into her painting with a dose of symbolism thrown in for good measure.
These certainly come across in 'Dowsing in a Blousy Top', where flowers with eyes watch a woman dowsing in a landscape of vibrant pinks, purples and greens.
From left to right: Chica Seal's Dowsing in a Blousy Top, Alba Hodsall's 'Hard Candy', Molly Van Ameorongen and Rose Electra Harris's 'Daydreaming'.
The show's title, 'I Dream in Colour', is taken from Dereck Jarman's Chroma – a meditation on colour theory.
Jarman famously spent the last years of his life living in Dungeness, known as Britiain's 'only desert', raising a vibrant garden out of the windswept shingle – all under the shadow of a nuclear powerplant.
On a grey day in Whitechapel, down a gloomy passageway, 'I Dream in Colour' felt similarly like an oasis of colour and light and a fitting homage to the late film-maker and artist.
I Dream in Colour ran from 26-28 November, check out the links above to find out more about each artist, what they're doing next, and where to find them. We'll be sure to bring you more of them as well.